Car hire Faro Portugal
Faro, situated in southern Portugal, is the capital of the Algarve region. The city has around 42,000 inhabitants.
The city has a public university (University of the Algarve), a complete interregional bus service, an international airport (Faro airport), a railroad station, a seaport and a marina.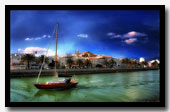 The Algarve has four well-defined seasons. However, the region is generally the warmest area of Portugal. The lowest temperature never goes below 0°C in winter, and it easily reaches 35ºC in summer. A lovely warm climate, the beautiful beaches and the always sunny weather makes Faro a very popular summer destination. Approximately 5 million tourists, including national tourists from Portugal and from other countries, like the UK, Germany, Ireland, Netherlands and Scandinavia are flying into the Algarve every summer.
Faro weather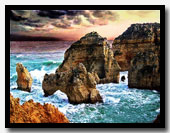 Faro airport is quite nearby the city, only about 7 km from the city centre, so we recommend you to book your car hire Faro airport to save a lot of time and money. In the last few years the number of visitors travelling through the airport has increased as more and more low-cost flight companies offer cheap flights to the Algarve. The transport facilities to and from Faro airport are within easy reach of Faro's city centre, and include a wide availability of taxis and the city bus line which has scheduled departure times of regular bus service at the airport's bus stop.
Faro is the home of the Ria Formosa lagoon, a nature reserve of over 170 square kilometres and a stopping place for hundreds of different birds during the spring and autumn migratory periods. The beach is nearly seven kilometres from the city, and is a long sandy spit reached by crossing a bridge.
Faro tourism office
Email: info@visitportugal.com
Website: www.visitportugal.com
UK Phone: 0845 3551212.
Portugal Phone: 808 781 212.